Our interior projects range from one room renovations to new build custom homes.
From the first mood board to the final reveal, we'll guide you at every step. Your experience throughout is as important to us as your beautifully finished home.
You'll have our insider expertise, keen eye for design and a commitment to making the process as stress-free and enjoyable as you deserve.
Whether you're hands-on and want some expert help with your project or you want us to handle everything for you from concept to completion, we've got options to suit.
We specialise in bespoke design and decoration services tailored to suit your project and needs.

Full Service Interior Design
Full-service Interior Design means we're by your side from concept to completion as we create a home that's unique to you. We expertly manage every detail, large and small, so you don't have to.
We work through our Signature Experience with detailed steps within, to plan, prepare and deliver a home we know you'll love.
Luxury Full-Service Interior Design is right for you if;
The Design Fee for Full-Service Interior Design projects start at $5,000.
Furnishing typically starts at $25,000+ per room and includes furniture, soft furnishings, window treatments, floor rugs, art and accessories.
Our Designer on Call service is perfect for you if you would like more professional design advice than a 2-hour Design Consultation allows, but aren't looking to engage us for Full-Service Interior Design.
This flexible approach allows you to use our design expertise in the ways that are best suited to you.
Our Designer On Call is based on your needs and is great for;
Cost: $1500 for a 10-hour block of professional design time.
A Design Consultation is the launching pad for every new project with Bella Vie Interiors. During this two-hour meeting we will discuss the scope of work, your goals for the space and your budget and finish with a clear understanding of your project requirements.
We'll cover off on all priorities and challenges, solve what we can on the spot and map out your next steps.
We start every project with a documented Design Consultation, but they're also an excellent stand-alone resource for those running their own projects.
A Design Consultation is great for;
Following our meeting, you will receive notes from our discussions via email so that you can reference them at your convenience.
Cost: $500
We believe a kitchen is the heart of your home and are passionate about creating a kitchen that you'll love.
Every kitchen is individual and needs to reflect your style, budget and lifestyle whilst being practical and functional to ensure it works for you and your family.
Whether you are building a new home or renovating, we work together with you to maximise the available light and space with your requirements to deliver you a creative design that defines your individual kitchen.
Our experience and extensive knowledge of space planning, ergonomics and Interior Design streamline the design and creation of your dream kitchen.
We'll guide you through selecting material finishes, storage options and accessories to suit your lifestyle, budget and kitchen style taking all the guess work and stress out of designing your new kitchen.
We offer three different levels of service from DIY to Full-Service Design to suit your budget and needs.
Cost: From $1,200
A beautiful bathroom is a great place to start the day, and the perfect place to end it. We provide practical and functional design expertise to interpret your ideas into a bathroom that exceeds your expectations.
From luxury ensuites to family bathrooms we can achieve your bathroom goals with ease.
Whether you are building a new home or renovating, we work together with you to create a bathroom that meets your budget and enhances your lifestyle.
Our design expertise, makes selecting fixtures and fittings seamless and our network of preferred builders, cabinetmakers and trades people gives you peace of mind during the entire process.
We offer three different levels of service from DIY to Full-Service Design to suit your budget and needs.
Cost: From $900
Custom joinery delivers a stylish, cohesive look throughout your entire home and whether you are building or renovating, it's vital that its design is both practical and functional.
Talk to us about how we can help you maximise storage for your whole home or a single room.
We collaborate with homeowners, builders and architects to design joinery specifically to suit both new builds or renovations and can work with your preferred joiner or ours to deliver your custom storage solutions.
We design and specify custom joinery for storage including;
Cost: $500 for consultation, plus custom pricing
How to Get Started? Complimentary Discovery Call.
A complimentary Discovery Call gives you the chance to get an understanding of how we work, and who we are, while we get to know you and the scope of your project.
Knowing the next steps will help put your mind at ease and this chat is the perfect way to make sure our service is the right fit for you and your project.
We provide clarity, confidence, and creativity as we walk you through each step of the process for an easy and enjoyable experience.
You will find our Bella Vie Blog jam-packed with handy tips & tricks along with our latest project reveals.
We love sharing our creativity and information to help inspire you!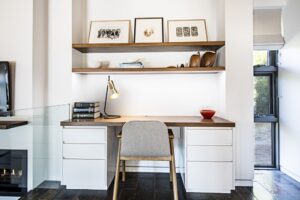 Hiring an interior designer was once only for the rich. Now it's quite common for savvy homeowners to hire interior designers to deliver their new home or renovation project and help them save time, money and a lot of headaches.
Read More »