Small rooms can be one of the most challenging areas in your home to decorate. If you're struggling to decorate a small room then you are not alone. I frequently get asked 'How do you make a small room look bigger?' which is the reason I am sharing my top tips for how to make a small room look bigger.

In this post we'll focus on using colour to make a small room look bigger.

You'll learn what colours make a small room look bigger, the tips and tricks for easy selection, answers to some common questions about paint colour for small rooms and choosing colour for trims and ceilings.

Colour can make a big difference to the feel of the room, especially in a small space. With a bit of designer know-how, you can easily create the illusion of space in a small room.
Let's start with what colours make a small room look bigger.
Here's my five top tips for choosing the best paint colours for a small room
Not a fan of white?
Choose a light paint colour or add some drama to your small room.
Grey – warmer greys with a touch of beige, keep spaces light and bright without the cool sensation of more traditional greys.

Soft Pink – One of my all-time favourite colours, touches of pink add warmth. You may not want to use it on all walls and choose to highlight architectural features or to add interest, however its worth remembering that in a small room it does work really well when all walls are the same colour. If you're not a real fan of girlie pink you could try something with a bit more yellow in it like Dulux Pinkham.

Soft Blue – Blues are perfect for bedrooms if you want a hint of colour. I have a friend who loves aqua, she finds it calming, might have something to do with her love of the ocean. Soft blue is the perfect colour to recede into the background without dominating the space. Paired with light colour timbers and natural textures, blues make for a perfect small room Queensland style. Get started with crisp white walls, add a feature wall in Dulux Blue Bayou and some timber accents in your décor for an effortless interior.
Black and White – always a chic look in any style of interior, black and white suits modern or traditional homes. All white walls with details and accessories in black lends a contemporary edge and punctuates a room with style. Use matte black for patina, high gloss, glass or ceramic for a bit of glam.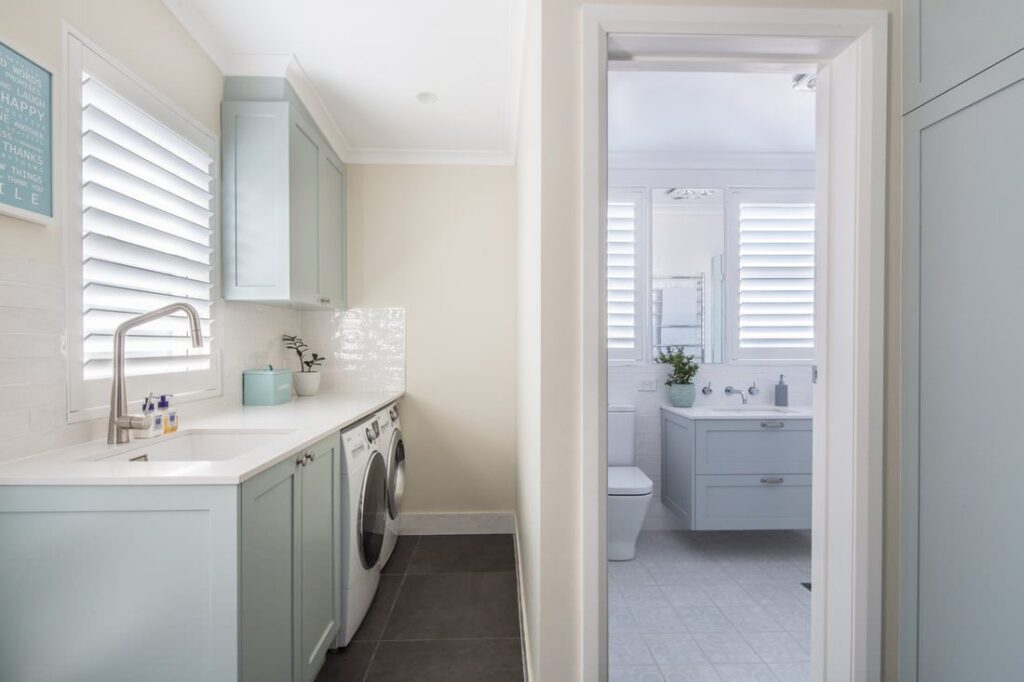 What colours reflect the most light?

Lighter, brighter colours can create the illusion of space in a smaller room, while using dark colours can absorb light in the room making it seem more cosy.
​Want to be a White Paint-pro?
Is choosing white paint doing your head in? I have six go-to white paints. If you know these, choosing white paint for your home is easy!
In this guide I share my favourite white paint colours, the ones I always use, and how to pick the best white paint colour for your home.
Getting Ready for a New Design or Renovation Project?
A new home design or renovation is not something you do on a whim, it requires planning.
Whether you are renovating a bedroom or a whole house there's a few essential steps that will help as you embark on this exciting and ​sometimes daunting journey.
My 6 Top Tips for Planning Your Home Renovation
​Do your Homework & Define your Scope
Know your Budget
Know your Limitations
Hire Experts
Have a Plan Open & Honest Communication
Resources to Help You Get Started
If you have any questions or would like help with your building or renovation projects, feel free to contact us for a no obligation discussion.
We help busy families and individuals achieve their ideal version of luxury living, blending it seamlessly with practicality to suit their lifestyle perfectly.
If you are building or renovating, we'd love to hear from you to discuss creating a beautiful interior that fits your dream of luxury living.